Camden Pickleball Plazza is located in downtown Camden, features 12 lighted pickleball courts, has a 3,500 feet of lighted walking trail, and more than 150 parking spaces. 
PICKLEBALL COURTS ARE ACCESSIBLE FOR PLAY, WEATHER PERMITTING.
Hours of Operation
Monday – Thursday:  9am – 9pm 
Friday – Saturday: 9am – 4pm
Sunday: 1pm – 4pm
*HOLIDAY CLOSINGS: 2022: TBA 
SAFETY GUIDELINES
The health and safety of all players, patrons and employees remains our foremost concern at the Tennis Center of Camden & Camden Pickleball Plaza. Guidelines are subject to change based on new knowledge and social conditions. 
The Pickleball Plaza was featured in a recent statewide publication about "alternative" sports. Read more here.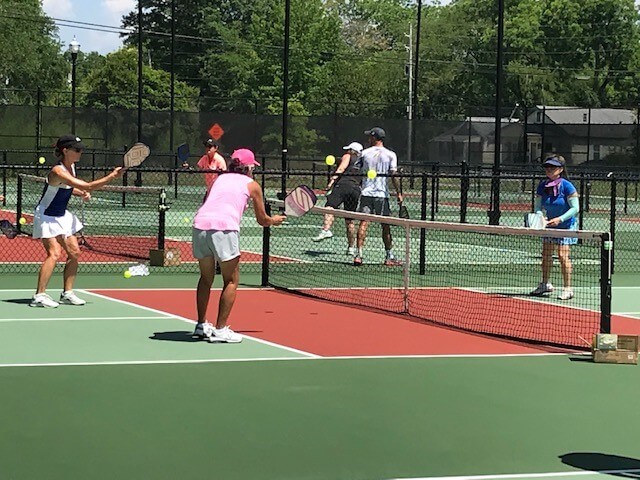 TENNIS / PICKLEBALL LESSONS:
Call (803) 432-0252 or email to schedule lessons in advance. Pickleball lessons and special events are offered by Rick Martin Tennis Services.
RICK MARTIN – DIRECTOR OF TENNIS/PICKLEBALL, USPTA Elite Professional, PTR National Tester, UTR Certified, PPR Certified Pro
EMAIL: rmartin@camdensc.org 
One Hour Private $65 / Half-Hour Private $35
Semi-Private – $35 per player / hour
HUNTER HORTON – ASSISTANT PRO, PTR Pro, PPR Certified 
EMAIL: hhorton@camdensc.org
One Hour Private $60 / Half-Hour Private $32
Semi-Private – $32 per player / hour
GROUP LESSONS: 
Family relatives, close friends or tournament players interested in "customized" small group lessons focusing on stroke production, drills, games, rally & play, singles/doubles strategies should contact Rick.
ADULT PICKLEBALL PROGRAMS:
PICKLEBALL OPEN PLAY SCHEDULE – Registration not required.
MON, WED, FRI, SAT  8:00 AM
TUES & THURS  5:00 PM
SUN  1:00 PM
PRO SHOP SERVICES:
Rick Martin Tennis Pro Services provides on-site service and stocks a selection of pickleball paddles, balls and accessories.
EQUIPMENT RENTALS: Paddle $5 each. CREDIT CARD IS REQUIRED FOR RENTALS. 
ADDITIONAL RESOURCES:
2023 EVENT CALENDAR: 
APRIL 15 Picklerama 
APRIL 26-27 Level-Up  Pickleball Camp 
APRIL 28 -30  South Carolina PB Association  Tournament
More info to come  CANCELLED
MAY 27-28 DUPR MILP Team Tournament- 4 person( 2 ladies, 2 men )  team event 
SEPTEMBER 9-10 DUPR MILP Team Tournament – 4 person ( 2 ladies, 2 men ) team event
SEPTEMBER 29- 1 South Carolina PB Association  Tournament 
More events to come