The Camden Fire Department, joined by state and national dignitaries, held a ceremony marking the Cleveland School Fire's 100th Anniversary on May 17, 2023. It was the deadliest school fire in American history at the time, and remains the deadliest in South Carolina history.
The Cleveland School fire occurred on the evening of May 17, 1923, while a school play was underway and a large crowd of students, teachers, family members and residents of the community were seated in the auditorium on the second floor of the rural school. Caused by an oil lamp that fell and ignited the stage, the crowd had to access a narrow, winding staircase to get down to the only exit out the front of the wooden structure.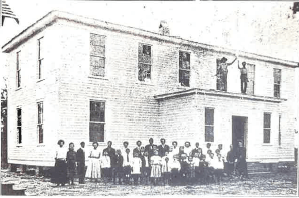 The fire killed 77 people, including 41 children, and injured many others. The fire department was called, but due the rural location of the school, it arrived too late to save many of the victims. The fire had a devastating impact on the community, and it led to changes in school safety regulations. In the years since the fire, many schools have been built with multiple exits, and fire drills have become a regular part of school life.
Fire Chiefs from Camden and Kershaw County were joined by descendants of the victims of the tragic fire, along with Governor Henry McMaster, Senators Thomas McElveen and Penry Gustafson, SC State Fire Marshal Jonathan Jones, and National Fire Sprinkler Association President Shane Ray, and other dignitaries for a ceremony at the monument, followed by a service at Beulah United Methodist Church.